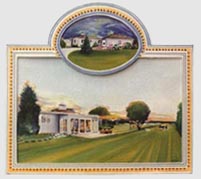 dora frost :: my weekly art journal
Well hamptonites, once again Dana and myself ventured down to Miami for the tenth annual Art Miami Basil – which if you've never been is a very big art trip. Since we went on the opening press day there was no problem waiting on lines and for us, the logistics worked beautifully. No such luck for my friend who went down Saturday, had a terrible time parking and never got to see the Miami Beach convention center at all. I should quickly explain: the convention center, which houses over 550 different galleries during the 4 day period, is home to the GREAT work. After that there are other art fairs in surrounding hotels and boutiques; then there's stuff all over Miami proper…including Art Miami another humongous tent filled with hundreds of galleries from around the world. There were installations, people dressed as clowns who don't want their pictures taken, a naked female performance artist lounging with pigs…you get the point.
There is more artwork and more art fairs than you'd ever want to see…Oh Lord, it's just masses of self expression everywhere. There is a BIG DIFFERENCE between the convention center and all else so I'll speak on that for a bit. As you walk in you are struck by a gorgeous George Baselitz which – for me – set the tone for fantasic painting seen in the first couple of leading galleries. Manolo Valdes at Marlborough, Rauschenberg at Gagosian, some wonderful midcentury work at Adler & Conkright Fine Art. All this gave the feel of a seriousness about art that I thought was long gone. A wonderful sculpture at Greengerg Van Doren by Alan Sheilds stood apart…a perfectly constructed circus tent of colored strips. There was also the most fantastic mobile by the terrific Beatriz Milhazes – ribbon candy flowers and pinwheel shapes strung together.
In essence what I thought about the work this year was that it wasn't trying too hard to make some statement or putting us all on – it was just very intentional painting, sculpture and some (but less) stuff in between. Well…there was the guy with the truck filled with bananas but never mind ; ) Moving on…the other fairs were FUN but for the most part didn't hold up to the same standards (yes I did say standards, they seem to have made a comeback).
For me, the artist that was an exception more than any other was Jansson Stegner exhibiting in a Belgian gallery called "Sorry We're Closed." It was a little Baltheus – strange men lolling about, exquisitely painted. His also stood out as I didn't see anything in any other fair that looked anything like them. Then overat Art Miami The Ferrin Gallery from Pittsfield Mass had two sculpture artists working in porcelain: Molly Hatch who when we got there on Saturday had sold out everything and Chris Antemann whose work I was familiar with. Both artists put a modern twist on 18th century period china figurines. It was Versailles gone mad. All in all, given that the amount of work is totally overwhelming, this year much of it was worth the trip, and the other lesser things, well they were fun to see too.
– DF
---
Dora Frost is featured in TheHamptons.com Fine Art Gallery and has been working directly from nature on over size pastels of peonies. She is working on these in her studio in Manhattan. Simultaneously, in her studio on Long Island, she is working on a narrative installation revolving around Proust's character, the Duchesse DeGuarmantes. Ms. Frost believes that for her, living inside of two or three completely different bodies of work allows for a sense freedom, eliminating the controlled idea of the limiting style identification/personality implicit in being identified with predominately one thing…beckoning in once again the thingness of the made object. To see how her art has evovled please have a look at Dora's past exhibit which debuted with TheHamptons.com in 1995.