First of all, Happy Summer from TheHamptons.com! We have been diligently compiling small video bytes for you of some of THE BEST A-list social shindigs of summer for a taste of what this place is all about in high season. See which famous celebrities said hi to thehamptons.com and here are some MORE CELEBRITY GREETINGS to thehamptons.com!!! We have highlighted some of the annuals and will be featuring some more as they happen. Every summer there are new restaurants & night clubs...so be sure to bookmark those pages for easy access to this year's list of fine dining establishments and the best places to go for a nightcap and dancing! Alison's Restaurant held their opening at Maidstone Arms where we noticed Martha Stewart savouring the mouth watering hors d'oeuvres so you KNOW it's got to be good! Cutting some slack here, she does know her food. We HAVE POSTED the events calendar for this summer so bookmark this page too for this season's upcoming parties & events in the Hamptons. We now have 3 pages of videos featuring the most smashing parties of summer in the Hamptons. Do preview our previous party pages...and if you need to get Apple's newest QuickTime player to play these videos on your mac or pc, it's free and fast to install!! Maybe if you were lucky enough to get the iPhone 3G you'll be able to watch them right there. We also encourage you to use firefox as a browser - it's a snap to download...it makes everything look just right : ) if you prefer our flash party page.
Now...let's get on with the show as they say! Memorial Day Weekend was actually busier this year then the past with a lot more events booked as season openers because there are only so many weekends in the summer and calendars have been marked well in advance for the most coveted invitations vying for that same crowd! People have learned to stake claim to the territory EARLY to capture their favorite people. There seem to be a few additional soirees for some of the powerful organizations too - Group for the East End (formerly Group for the South Fork) had a very nice benefit at the Madoo Conservancy over in Sagaponack with music and yummy hors d'oeuvres to raise some more awareness about our local environmental organization. Their mega event comes later in this roster. GREEN is finally becoming hip so GEE is taking full advantage with their 21st annual fundraiser! Speaking of green, The Garden Club of East Hampton had a lovely preview cocktail benefit at Mulford Farm Museum with their ever popular annual plant sale. Southampton Hospital held their 28th Annual Memorial Day party on the Great Lawn in Westhampton Beach...their biggie comes later too. The Seventies themed event helped to fund the Westhampton Primary Care Center and Starr Boggs provided the delectable menu.
Elsewhere, there were plenty of star studded parties quietly held in the backyards of many grand estates old and new. Pandy and Yves Hentic are notorious for their elegant MD private soiree that opens the season each summer to the delight of all their privileged guests. Pandy's well known for her love of Panda bears and nonchalantly wears her special panda slippers every year greeting everyone with a giant bear hug. Yves is best known for his wonderful tales of treasure hunting and always seems to have another engaging story. Old & young are always welcome and it seemed like half of Ross was there this year! Planned Parenthood held their Peconic East End affair in East Hampton and we grabbed some footage of that as well! They also had their Sunset on Mecox Bay at the Stanton estate very shortly thereafter. A surprise superstar debuting in the Hamptons this summer is Kim Kardashian who delighted all her fans at White House in the wee hours of the night or should I say morning? She put on quite the show - if only our little sony kept pace with the white house speakers!! We also caught up with Gossip Girls who were filming on Coopers Neck and snagged a nice shot of Chace Crawford with some VERY happy locals!! check out the EXPRESSIONS : )
In the spirit of the holiday, parades were held in several of our little hamlets to honor our fallen heroes and remind us of the true cost of our freedom. It's so easy to forget in our day to day hectic lives BUT right this moment there are people laying their lives down for us...So we'd like to say "thank you" publicly and honor their selflessness on our account. Worthy causes are the big theme for the most part with all these annual American Summer events out here in the Hamptons and New York is our epicenter...so there is a common thread to this notation...ok, OK so the annual Hamptons Magazine bash with Sex in the City star Kim Cantrelle might not fit into that niche but it is ok to have fun while enjoying our freedom!
One splendid annual that's always a June favorite is the Decorators-Designers-Dealers event on Barkers Island Road to benefit the Fresh Air Home. It's laid out quite nicely making it easy to navigate between all the professionally orchestrated spaces - both interior & exterior. The auction is a top notch production with only the most elegant items but at unbelievably low prices! Everyone seems to get a great bargain and the money raised gives more kids a chance to get out of the city. It's such a popular event that you run into nearly everyone you know!! The Parrish had the other fave event with Landscape Pleasures which is their premier horticultural event featuring only the best in private garden design. Next it's their humongous Midsummer's Night Gala - not to be missed! SYS held their FIFTH annual "A Field of Dreams" to benefit the youth center in Southampton. For one magical night the facility is turned into a fantasy dreamland and the place is packed with community minded guests who bid on dreamy auction items while enjoying a lavish menu and dancing. Concurrently the 8th Annual God's Love We Deliver was going full steam at a private beachfront home in Sagaponack and East End Hospice was hosting THEIR Biennial A Taste of Shelter Island...the pace picks up from here though!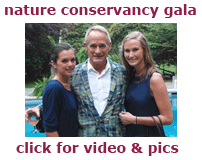 Over in Westhampton Beach at Tierra Mar was the kickoff initiative Making Waves hosted by Cape Mentelle to benefit Peconic Baykeeper. Bob Deluca of Group for the East End and like minded environmentalists and surfers were out in force. It's all about protecting the surf breaks around the world with an emphasis on our global impact on the ocean and our responsibility to keep up and protect our beaches. Cape Mentelle is an Australian wine company making its debut here in the Hamptons and they're going to give one dollar of every bottle to the Peconic Baykeeper this summer. More in green flavor...ARF had its 22nd Annual Garden Tour and featured six gorgeous gardens in Southampton. John Drew Theater had its benefit opener at East Hampton Point with a special performance by Stritch & Ebersole. Ross also did its annual gala Art & Plate Auction for the 13th consecutive summer! This indeed was another big weekend marked well ahead with the 12th Heart of the Hamptons Gala graced by gorgeous and ever so talented B. Smith in Bridgehampton...and Love Heals with Donny Deutsch as host at Luna Farm in Sagaponack. Russell Simmons and Portia Coleman were seen stepping out on the dance floor after dinner for their angle of enjoyment! Another very nice summer solstice event in Sagg was A Summer Night's Dream at Wolffer's Vineyard...and... Bridgehampton honored its favorite pianist Bobby Van which went towards the Nathaniel Rogers House Preservation Project, a pet project of the Bridgehampton Historical Society...so all in all it was a full on summer weekend and it's only JUNE : )
Hamptons Magazine hosted their 4th Annual Hamptons Golf Classic in Westhampton which is a stellar all day event that draws many celebrity guests each year. Apparently a quietly guarded secret but a really nice evening was the Nature Conservancy's annual BEACHES AND BAYS GALA at the former Robert Lion Gardiner Estate. Glorious Food catered while everyone danced to Paul Richard's band from Hank Lane Productions. The Golden Age of Hollywood with a Roaring 20s theme spirited East End Hospice's Summer Gala at Sandacres in Quogue. The Potts family are always enormously generous in lending their beautiful property for this annual event. Over at the Diamond Ranch in Water Mill the American Cancer Society was throwing its own diamond spectacular appropriately called Denims & Diamonds - it was jinormous and it appeared EVERYONE came to raise some funds for a cure. Kelsey Grammer and his wife Camille did the honors and both were oozing with warmth towards everyone there! It's amazing how successful so many of these events have become and the scale of opulence evident at these fundraisers. Seriously, just when it seems likes it gone over the top another one comes along and blows everyone out of the water - so now we have a whole array of mindblowing, HEAVENLY events!
Amazing but true, our little Southampton movie theater has become a favorite of Hollywood for private screenings & premieres. The Hamptons International Film Festival must have something to do with that! Here's some great video capture of the red carpet starting with Catie Couric

at Blackberry's premiere of Mama Mia at OUR LOCAL movie theater in Southampton...we even got a salute to thehamptons.com from Pierce Brosnan himself!! There were all the various "fourth of July" celebrations from Southampton to Montauk - one of our favorites is for the Southampton Fresh Air Home on Meadow Lane celebrating its 21st Annual American Picnic with Grucci Fireworks - a family friendly event so ALL the kiddies were in tow. Over at the Halsey House Museum was another patriotic celebration with full regimental salutes!! This historic farm house was built in 1680 as the village of Southampton was first being settled - reminder to everyone that Southampton is the oldest English settlement in New York State. It began with a small group of English Puritans who set sail from Lynn, Massachusetts and landed at Conscience Point on June 12, 1640 and was named after the British Earl of Southampton. Now it makes sense that our little movie theater would become so special with its old fashioned charm and early village history ; )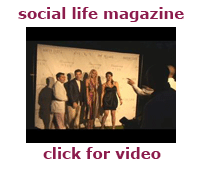 Marking history for the black community and raising funds for the Reginald F. Lewis Museum, Mrs. Loida Lewis entertained an elite group of black billionaires at her estate over in East Hampton. Sean Diddy Combs was the award recipient this year and other notable guests such as Michael Strahan and Charles Oakley were there as well. Social Life is the newest luxury lifestyle magazine to debut in the hamptons. Publisher Justin Mitchell offered a sneak preview at the big party he hosted at a private estate in Water Mill...the first of several this season. Starting out the following weekend was ArtHamptons - a huge event - presenting both modern & contemporary art with over a million dollars worth for sale!! An expansive selection of 19th, 20th and 21st century masterpieces were shown within four fully enclosed, temperature controlled modular structures on two acres. Thankfully it was a two day affair! The 13th Annual Music Festival of the Hamptons opened with its gala honoring the late Roy Scheider who was a very enthusiastic patron of theirs as well as of the Group for East End. The Brussells Chamber Orchestra permeated the tent with the sounds of symphonies & concertos and an adagio for strings with Michael Guttman as conductor extraordinaire. We only wish this classical music event went past the 27th because every year has brought an astonishing array of only the best of the best!
Concurrently the Children's Museum of the East End held their 9th Annual CMEE under the Stars summer benefit at the Ludlow family farm overlooking beautiful Mecox Bay in Bridgehampton. This year they seemed to really go all out to illustrate "the arts" in all forms. We got some GREAT video of their dance sequence! Over in East Hampton Ross initiated their seismic season of events on Saturday night with their 8th Annual Box Art Auction...next comes Aretha, the JONAS BROTHERS, the b52s and a lot, LOT more. We couldn't miss the Parrish Art Museum's big Midsummer Party - it was really two parties in one...one for cocktails and a gourmet dinner and then the After Ten set arrived for some serious dancing. The Parrish summer gala has always been a fave in our book...after all we were the only web presence they had for over a decade!! You KNOW summer is smack in the middle of its season when POLO starts...and it did with Chace Crawford from Gossip Girls as celebrity host. The Mercedes-Benz Polo Challenge for the Hamptons Cup began its run of six consecutive Saturday polo matches and ALL the proceeds will go to the South Fork Breast Health Coalition. This is really great because so many women on the east end particularly are diagnosed with breast cancer and they're fighting for a cure with the help of everyone including Lucia's Angels under its wingspan. We were very excited that Chace said hello to thehamptons.com! It was VIP all the way...the tent was packed as usual with everyone who wanted to see and be seen at polo ; ) We will be covering the matches every week so go to the polo pages to get the scoop and schedule and video! Prior to the polo matches we stopped by the luncheon organized by Cindy Willis at Chuck and Ellen Scarborough's for the Southampton Hospital volunteers who helped to orchestrate party plans for the biggie coming up on August 2nd under a great white on Wicapogue.
This was one of those BIZZZYY weekends...so much packed into one night makes for some mad dashes. The Hampton Designer Showhouse Opening Gala initiated the showhouse's six week stint and it will benefit the Southampton Hospital which is crucial to all of us. This is the eighth year and features America's top designers who get their chance to showcase their talents with a house that has been donated to benefit the hospital. The Southampton Historical Museum hosted Shecky's "Girls Day Out" on the museum grounds and everyone walked out with a Shecky's Deluxe Goody Bag after having shopped 50 of the hottest brands in fashion & accessories. The LongHouse Reserve honored Martin Puryear with a LongHouse Medal and H. Peter Stern Award in East Hampton while in Bridgehampton there was a chef tasting event accompanied by summer wines to benefit the Samuel Waxman Cancer Research Foundation. Bay Street Theatre in Sag Harbor had its benefit bash on the wharf with a special fantasy auction this year that topped all previous years and over in East Hampton was Art for Life hosted by Soledad O'Brien at Russell Simmons' estate. Queen of Soul, Aretha Franklin, said hello to thehamptons.com as did Honoree Christy Turlington and some of the other VIP guests...NY Governor David Paterson, Danny Simmons, Frederick Iseman, Grammy winner Tamia and husband/NBA star athelete Grant Hill, the Motsepes, the Peeblers - well it was a BIG list of powerful people there for Russell Simmon's 9th Annual Art for Life East Hampton 2008 benefit gala! It was all to benefit Simmons' Rush Philanthropic Arts Foundation founded in 1995 by all three Simmons brothers which provides disadvantaged urban youth with significant exposure and access to the arts as well as acting as a springboard for artists of color. This year's feature artist was Ed Clark, an abstract painter, who donated limited edition prints of his "Untitled-NY Series" for the auction. Some...and really only "some"...of the other items were: a family trip to the Vatican with VIP seats at papal mass, a tennis lesson with Serena Williams, tickets to Victoria's Secret Fashion Show & a private yoga lesson with Russell Simmons and even George Clooney's cell phone!!
Capping off the big weekend was Hamptons Magazine's annual lobster bake by the ocean...it's tricky to get the weather to cooperate for such a large scale beach party but it held up beautifully for the busloads of people ferried from Cooper's Beach to Dune Beach for this summer's blast. What more could you ask for then a dance floor on a gorgeous stretch of Atlantic beach, lobsters & fresh corn served up by Tim Burke of 75 Main in Southampton, good company and all the beautiful people?! OF COURSE there was a full bar!! The night before was VH 1's Summer of Soul Concert where Grammy award winner NE-YO and singer-songwriter Solange (yes, she's the sister of Beyonce who is on this year's board) each performed for the VIP guests. World renown DJ Sky Nellor was master of the evening for entertainment in between solos. This very special VH 1 event was presented by Harman Kardon and Mercedes-Benz and was the 10th benefit for the VH 1 Save the Music Foundation a non-profit organization dedicated to restoring instrumental music education programs throughout America's public schools. Morris Reid and his lovely wife Jaci were on hand and invited an intimate group back to their house in East Hampton where interior designer Libby Langdon won the honors for table design with various shades of green.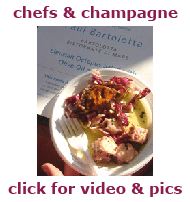 There was a South Fork Supper to celebrate local farms and produce...remember that buying locally is environmentally friendly...the East End Home Arts Guild spoiled a precious few lucky guests with gourmet delights cooked up by chef Mary Spellman served with local wines and it all went to benefit the Southampton Historical Museum. HC&G magazine had their big opening gala for this summer's Idea House so do check it out with our video & photographs if you missed it. This was the fifth year for the Idea House but with a new twist promoting green design for luxurious lifestyles and the gala was to benefit the Peconic Land Trust. Sagaponack was the backdrop where a local developer merged talents with world-renown architects & designers and visitors were treated to the splendors of cutting edge design trends and home innovations. Super Saturday had their 11th designer flea market to benefit research for the Ovarian Cancer Foundation. The New York Times calls it the "Rolls Royce of Garage Sales" featuring over 200 top designers along with a carnival style backdrop to keep all the kiddies happy while parents shopped till the kids dropped. Over at Wolffer's Estate Vineyard the James Beard Foundation held its annual summer gala Chefs & Champagne with flowing champagne along with Wolffer's local wines and culinary tastings from over 30 fine chefs from NYC and beyond! This year's guest of honor was Wolfgang Puck whose presence added a very special touch.
Starting off the weekend was Orphans International, founded by Sarah Ehrlich It was their 2nd annual gala in a continuing effort to help the 185 Kenya orphans for whom they built a 10 room schoolhouse from the funds they raised last year. Their ultimate goal is to build a vocational school to teach them trades to put meaningful employment within their reach as well allowing them to become fully self-sufficient. Committee members Jill Zarin, Bethenny Frankel and Luann de Lesseps are from the show "The Real Housewives of NYC". Capping off the weekend was the Closing Gala of the 13th Annual Music Festival of the Hamptons honoring Leonard Bernstein...and...JAZZ @ The Beach where Jazz pianist Judy Carmichel played overlooking the ocean at a private home on Meadow Lane. In between all that was the big Water Mill Museum Benefit which is already on its 15th annual summer blast and the 10th Annual Hoops 4 Hope hosted by Mike and Taylor Lupica with a night of African music & a cocktail soiree that benefits kids' programs in Zimbawe and South Africa...but it doesn't stop there...perhaps one of the more eloquent celebrations of this entire season was The Robert F. Kennedy Memorial in East Hampton. It was the inaugural event to kick off a year long series and held in "The Hamptons" at the home of Courtney Sale Ross. Its mission was to commemorate the 40th anniversary and emphasize the human rights and social justice work that is accomplished around the world by the foundation. Founded in 1968 the Robert F. Kennedy Memorial is a nonprofit organization that works to realize RFK's dream of a peaceful and just world. Its domestic and international programs work to empower the oppressed, build our next generation of leaders, and tackle the toughest problems facing our civilization. The 40th anniversary commemoration will continue with events across the country so this was just the first! Courtney Kennedy, Ethel Kennedy, Kerry Kennedy Rory Kennedy and Mark Bailey were all there as well Alec Baldwin who appeared to be a favoite guest of honor for the Kennedy family.
Southampton Hospital's FIFTIETH annual summer party started the weekend off with Alex Donner's Orchestra playing under the enormous white tent on Wickapogue. Everyone from all of our little hamlets attended to support our one and only hospital to ensure we all get the best of care if we end up in there for any one of a million reasons. The interior of the tent was exquisitely done as always and each year sports a new "best of the best" theme outdoing the preceding season...this year it was golden...and to be sure to convey that the theme was glitter & sparkle and everything golden! Guild Hall had their Annual Summer Gala too in East Hampton and captured another huge group of members & supporters who all were given a preview of the Larry Rivers exhibition before heading over to Mulford Farm for dinner and dancing to Peter Duchin's orchestra. That said we had the two most popular dance orchestras right here in the hamptons...other then of course the infamous Lester Lanin from yesteryear : ) A rather exclusive dare I say secretive affair was happening nearby to benefit Amaryllis Farm's Equine Rescue mission whose committee members are all A-list stars who pledged their presence on its behalf. Madonna was honorary chairperson and it was hosted by none other then Gwyneth Paltrow & Steven Klein...Kelly Klein, Sale Johnson & Marcy Warren were the co-chairs. I think that's a tough list to top!! Linda Shapiro managed to pull off this coup and make The Mane Event THE most coveted party around town...we were lucky to have been granted access to it and therefore can share it with YOU!! A very eccentric concept and an elegant production to say the least and very different from the usual white tent affairs everywhere else...it's really worth looking at the video to get a sense of the how touching the evening was and its mission to save horses from abandonment and impending slaughter.
Ross just keeps on rocking us with one show after another and this weekend's feature concert was JONAS Brothers who wowed every young teenager able to get into it with its hefty price tag of $1500 apiece but half the price of last year's SOCIAL @ross series! We grabbed video of all the screaming fans who were beside themselves with joy and the awe was written all over each one's face as you'll see when you check out our video & pix - they were DELIRIOUSLY happy!!! Between Jonas Bros and Gossip Girls' cast coming to town this summer this season turned out to be heaven for the tween-age locals & visitors alike. So now we have stars of all ages here...even little Miss Sunshine was spotted there signing autographs. Over in Southampton the lovely Susan Saradon and Larry Leeds were honorary chairs along with Henry Buhl at his annual Sunflowers After Hours celebration marking its 16th year of helping homeless men & women help themselves. It seems to have gotten even bigger this year and the sunflowers radiated from every nook & cranny of the tent and the garden surrounding it. It's a tricky process orchestrating the full bloom of the sunflower garden in sequence with the gala each summer and quite a fete accompli when it all comes together perfectly like it did this one.
Pink Elephant was the choice location for the Christopher and Dana Reeve Foundation event with DJs Barrie & Dojah for entertainment. Matthew and Alexandra Reeve did the honors once again. They promised a much bigger event for next summer and although it was on a much smaller scale they managed to draw the right people and reach their goal to inspire funds for research to develop both treatment and a cure for paralysis. Hosts Victoria & Jay Furman entertained guests at The 2nd Annual Furman Jazz Fling with a special performance by jazz vocalist Jane Monheit and her quintet and guest vocalist Sachal Vasandani. It was to benefit education & performance programs produced by Jazz at Lincoln Center. This exclusive event is sure to become a fast favorite on the party circuit in years to come. Skateboarding legend Tony Hawk launched his inaugural Activision Presents Stand up for Skate Parks with a star-studded benefit in Bridgehampton. Tony and other BMX pro-skaters performed on his vert ramp for everyone who attended...which would be...Jon Bon Jovi with wife Dorothea & children, Russell Simmons, Vern Troyer, Michael & Lauri Gelman & kids...and a lotta locals. The invitation read like this: Tony Hawk, Lance Armstrong, Andre Agassi, Russell Simmons, Christopher "big Black' Boykin, Sean "Diddy" Combs, Jamie Lee Curtis, Mia Hamm, Dana White Jr., Jon Favreau, Mat Hoffman, Shaun White, Bobby Kotick, Bob McKnight and Ron Burkle invite YOU to this inaugural spectacular in Bridgehampton! hmmm...quite the host list...can you imagine the guest list?! ALL the proceeds went to the foundation which seeks to foster lasting improvements in society with a special emphasis on empowering youth in low-income communities. Tony Hawk was nice enough to give us an exclusive interview beforehand and he supplemented that with a great big hello to us at the skateboarding event. We were amazed he was so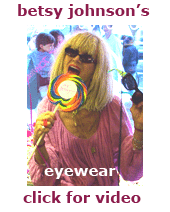 unpretentious and humble and even eager to give us the time! Anne Hearst & hubby Jay McInerney and Tatiana & Campion Platt jumped into the events arena with the Inaugural Best Buddies Hamptons Beach Bash to support people with intellectual disabilities around the world. More then 400 local and international guests including prominent business men & women, politicians, journalists, sports figures, entertainment celebrities came to show their support for Best Buddies. ANOTHER one to add to the growing competition of party giving in the Hamptons! It's getting seriously fierce because there are only so many weekends in the summer so in order to lure guests to actually attend and not pull a switcharoo one now has to go to great measure these days to outshine the one down the road ; )
Fashion Designer Betsey Johnson celebrated the launch of her new eyewear line at the luxury eyewear store, Grueneyes, in East Hampton.  Guests sipped sparkling pink liquor by Nuvo and enjoyed pink cupcakes and chocolate covered strawberries while checking out Betsey Johnson's hot new designs. The stars came out for the 19th Wild Wild West Carnival, a family day benefit for the Albert Einstein College of Medicine. In tow were the younger generation because they had set up an elaborate playground in the style of a carnival. It was old fashioned bbq fare at the Diamond Ranch in Water Mill and the ever gracious Christy Brinkley was guest of honor with the presentation by Marquis Jets. Check out our video and see what o.t.h.e.r. stars were there! What would summer be without the Annual Artists & Writers Softball Game in Herrick Park, East Hampton? East End Hospice has a terrific lineup of fundraisers every summer and this is right at the top of the list as one of the most popular family events of the summer! This was the SIXTIETH occasion for the star studded teams to bat it out since 1948 inception where the first games included artists such as Franz Kline, William de Kooning, Philip Pavia, Jackson Pollack and Joan Mitchell. Later, in the 60s and 70s, writers joined in the fun and soon expanded again to include politicians, actors, musicians, publishers, editors and television personalities. The game's hall of fame includes Alan Alda, Alec Baldwin, Yogi Berra, Ben Bradley, Steven Breyer, Christie Brinkley, Matthew Broderick, Ed Burns, Chevy Chase, Bill Clinton (ah yes, that'd be our United States President), Kristin Davis, Donny Deutsch, Rudy Giuliani, Charles Gwathmey, Peter Jennings, Regis Philbin, Roy Scheider, Paul Simon, B Smith, and Eli Wallach...how's that for a list of LOCAL celebrities?!
Another starspangled guest list attended tennis legend and philanthropist Andre Agassi's "A Night In The Hamptons" to benefit The Andre Agassi Charitable Foundation presented by The Wall Street Journal. Special performance by Grammy award winner and multi-platinum artist Rob Thomas, along with emcees Chevy Chase and Kelsey Grammer. Guests on the list for attendance included Alonzo Mourning, Donna Karan, Rachael Ray and Lorraine Bracco. The sponsor list for the live auction was just as impressive...in addition to the Wall Street Journal>David Yurman, Tiger Woods, Rachel Ray and Lorraine Bracco. On a serious note, Andre is absolutley PASSIONATE about his schools and it was well reflected in his speech. The items up for auction were quite expensive even by the hamptons' standards...$50,000 for a clinic with Andre at the Ross School was a bit pricey! Over at the Tuscan Villa in Water Mill actress-comedian Sarah Silverman hosted Music for Mercy Corp to benefit SAVE DARFUR and The Action Center to End World Hunger. Actor and activist Cary Elwes and his partners Raquel Bruon & Diane Mayer, hostess Sarah Silverman, The English Beat, Russell Simmons, Ileana Douglas, Karolina Kurkova , Sleeper Cell's Oded Fehr, 30 Rock's Jack McBrayer, Jill Zarin of The Real Housewives of NYC with husband Bobby Zarin, Rocco DiSpirito, Morris & Jaci Reid, SNL's Horation Sanz, actor Rick Yune, tv personality Evan Farmer, Tasmin Lonsdale, CNN's Alina Cho, actress Mozhan Marno, auctioneer Bill McCuddy and special guest Jon Bon Jovi were all guests of Take Note's first annual "Music for Mercy Corps"!!! ...ya think there's a celeb contest in the hamptons or what ; )
As you've guessed by now, The Ross School excels at fundraising and they have a special fan in Aretha Franklin who agreed to do another intimate performance while guests dined & danced to her soulful rhythm treating everyone to some of her classics but also some new more orchestral ones. Known as the Queen of Soul, she delighted everyone in the room whether guest or part of the staff...everyone was reaching back at her and it was hard to stay seated. She blessed the crowd with her talent because the Aretha Franklin Scholarship awards a deserving Ross School student with an interest in the performing arts. The Hampton Classic Horse Show also got off to a start with Bruce Springsteen's daughter, Jessica, show jumping but her dad did his best to stay out of the limelight...instead he was hanging out by the stables rather then in the Hampton Classic VIP tent. Over $600,000.00 in prize money was up for grabs and Georgina Bloomberg was another famous daughter competing while the likes of Calvin Klein, the Hiltons, Rudy & Judy Giuliani, Mayor Bloomberg, the Boss & his wife Patti Scialfa, Kelly Klein with her adorable son Lucas and a slew of locals, tourists & the horsey set who attend this annual event. It's now the largest hunter jumper show in the nation and has grown from a modest country style horse show back at Howard's Stables into a huge national competetion...and marketing event. It was the 33rd one and Hilary Dobbs became the youngest rider to win the $200,000 Grand Prix prize at only 20 years old. This is a show for both amateurs & Olypmic medalists alike and both juniors & adults so it has always been a welcome end of summer family event for locals and visitors.
Singer-songwriter Alexa Ray Joel stood up for Save Sag Harbor at the Sag Harbor Whaling Museum by featuring a live performance with both her famous parents in attendance. Her step-brother, Sailor, introduced her along with his buddy and a funny joke to their mother's delight. Christy was beaming while Billy Joel gazed adoringly at his daughter while she pumped everyone up with country music and some jazzy tunes. Everybody was clapping & dancing under the tent in front of the old Sag Harbor Whaling Museum. I'm excited to say I bought the lucky ticket at that event and I won the Vespa GTS 250...that came as a big surprise a few weeks later. So see you really CAN win at these raffles : ) Donna Karan's new Urban Zen store sponsored the Sperry tents and Christy Brinkley bought & hand painted umbrellas for everyone in case it rained...that was awfully thoughtful of her. Even Alexa's grandmother, Billy's mom, was there to watch her grand-daughter! Till next week - enjoy these days of fall...we'll be bringing Yoko Ono's exclusive exhibition of John Lennon's art, the BlueHammock party, drummers at the beach in Sagaponack, Rufus Wainright at the Water Mill Center, the Boathouse Gala in New York, plenty more polo and LOADS MORE! Stayed tuned, bookmark this page for easy access and preview some of the upcoming annual events on our last party page. You'll find all the great parties from last season and get an idea of what to look forward to for this year's events PLUS you just might see yourself in one of them. As per our copyright notice for this entire website, all content, photos & videos are copyrighted to thehamptons.com. If you would like a copy of any photo or video from any of these events, please get in touch with thehamptons.com by emailing us at staff@thehamptons.com and THANK YOU for visiting : ) We will keep adding to this as we capture more great footage here & there...could be nyc or cannes!!! Here's our 2009 calendar of events...with a hint of summer : )