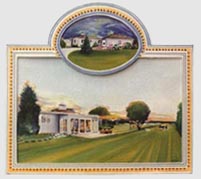 dora frost :: my weekly art journal
Most of the sculpture/installation is…(and don't go looking for much painting, now) distinguishable only by virtue of materials which shift from Plexiglas, plywood plastic and my fave out and out garbage, not the adjective, the noun. I thought I'd recharge the engine by hitting the net. The Camera is off Part 4 on YouTube by James Kalm will take you through everything you would have ever wanted to see…basically colorless people shuffling around colorless rooms strewn with grayish, brownish "stuff". Funnily enough I'm not as against this as I may seem. Loved, loved, loved Rita Ackerman's work and Karen Kilimnik's little 19th century world…and who's not in favor of an enormous kitty litter box the size of a chevy? Kudos Amanda Ross -Ho. Charles Long's Giacometti-like creepy sculptures were nice, although I'm not sure if they were loosely based on sea gull droppings or actual sea gull droppings, but they did sort of give you a sense of the ocean nearby. Mary Heimann's paintings were among the best works in the show. Loads of video abounded, none as successful as Spike Lee's on New Orleans in the wake of Katrina.
The good news here in terms of the anti-visuals but steeped in meanings is that it's not about commerce and for that I heartily thank the Whitney and its curators. I also think that that kind of a conceptual overview allows for innovative small shows to appear in local galleries…such as a show like "shoes" at the Gavlak gallery in West Palm Beach or most anything at the drawing room in Easthampton. One other thing: when I leave New York in almost any direction the outlying areas are abysmal and hideous. If the art is a pretty good reflection of the situation, well we are responsible for having made a visual disaster of what once a was breathtaking country.
In many sad ways it's no wonder that this is what young artists come up with. As a colorful and glorious journey back into the world of the truly visual…forget all the black and grey intellectual thinking, and go directly to the Metropolitan Museum and up to the roof overlooking Central Park for Jeff Koon's sculptures. If shiny wrapping paper has always made you giddy…as it has me…then you'll love the unashamed tribute to it. Join the group having late afternoon cocktails on Friday and remember the art once there was a world of inspiration…df
---

Dora Frost is featured in TheHamptons.com Fine Art Gallery and has been working directly from nature on over size pastels of peonies. She is working on these in her studio in Manhattan. Simultaneously, in her studio on Long Island, she is working on a narrative installation revolving around Proust's character, the Duchesse DeGuarmantes. Ms. Frost believes that for her, living inside of two or three completely different bodies of work allows for a sense freedom, eliminating the controlled idea of the limiting style identification/personality implicit in being identified with predominately one thing…beckoning in once again the thingness of the made object. To see how her art has evovled please have a look at Dora's past exhibit which debuted with TheHamptons.com in 1995.
the hamptons
Posted by
thehamptons.com
|
fine art & exhibitions
|
no comments