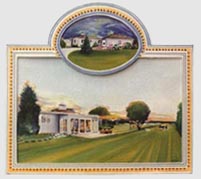 dora frost :: my weekly art journal

Well, it was once again time for Art Basel Miami, and this year I concentrated on the main Miami Beach Convention Center. Experience has taught me that it's the premier show amongst the throngs of galleries, hotels, parks, museums etc. Also, I can only take so much at one time. This year there was a more somber mood after the horror of Sandy's effect on Chelsea and downtown galleries, but there were plenty of beautiful / intriguing works up for sale – as let us not forget, all this hoopla is about making money. My sense was also, that there was a more conservative selection process going on, blame that on the fiscal cliff. All the usual suspects were on board – Picasso, Picabia, Prince, Lichtenstein, John Chamberlain, Basquiat. Also this year, I was drawn to work that seemed more hands on and personal, by which I mean corny as that might sound, work that represented the voice of the artist – as opposed to something manufactured by a multitude of assistants.

My favorites in this category were: Chris Martin, with acrylic and glitter collages using long playing records to forward the abstact painting at Mitchell-Innes & Nash; Keltie Ferris with color blasting canvases also at Mitchell-Innes & Nash; Charles Matton's Homage to Proust, and Elizabeth Turk's insanely beautiful marble sculptures at Hirschl & Adler Modern. A person would be crazy not to want one of these graceful white towers in their collection. There were also quite a lot of mid-career artists such as Beatriz Milhazes who also has a uniquely distinctive decorative look.

I also saw one or two Neo Rauch's and a Peter Doig. Galerie Thomas from Munich exhibited a subtle red and blue Paul Klee study, and a Frances Bacon. Marlborough showed several of a favorite artist of mine, Manolo Valdes. In the end though, nothing beats the two Joan Mitchell's exhibited at who else but Cheim & Read. As for the more experimental exhibitors (I will not succumb to the term "emerging") these were more or less what you'd expect – so nothing new there. Two things N. Dash and Ian Tweedy – also Ulrich Wulff from Berlin- working primarily with painting, drawing and sculpture. Even in these artists' conceptual bent, there is still the voice of the artist. All in all, it was a terrific year.

For Art Positions, Gallery Spinello exhibited Augstina Woodgate, a native of Buenos Aires. This was one of the few multidisciplinary artists being shown who works in the political / geographic sphere. In her new work she takes three representations of earth, a copy of an atlas and a world globe. With all of this her vision is to explore a different dimension in the world as we normally know it. Very different from Picabia and Matisse, no?

In Art Nova I found a wonderful image of a sheet of transparent gauze hung over a window with stars and half moon cut outs. According to the write-up this photo is an "existential abstraction", although it seemed to me just a pretty good idea for a very feminine statement. One of the most interesting spots was a gallery called Revolver from Lima, Peru in the wounded district of Miraflores. It maintains a program of giving visiting international artists places to work and stay while expressing their individual art however that manifests.


At Rampa (a gallery from Istambul) the two artists, in this case using sculptural forms, examine the process of art making – returning to the question of the man made versus the manufactured. In all the new work I saw this theme of the nature of art today was at the heart of all the truly interesting explorations.

Summing up my thought on the vast and varied world that is Art Basel, the art world is taking a slightly more serious look at what this thing called art might be, still leaving it an open ended discussion with some pretty good paintings that stand through time on their own two feet without the need for commentary at all.
– DF
---
Dora Frost is featured in TheHamptons.com Fine Art Gallery and has been working directly from nature on over size pastels of peonies. She is working on these in her studio in Manhattan. Simultaneously, in her studio on Long Island, she is working on a narrative installation revolving around Proust's character, the Duchesse DeGuarmantes. Ms. Frost believes that for her, living inside of two or three completely different bodies of work allows for a sense freedom, eliminating the controlled idea of the limiting style identification/personality implicit in being identified with predominately one thing…beckoning in once again the thingness of the made object. To see how her art has evovled please have a look at Dora's past exhibit which debuted with TheHamptons.com in 1995.
the hamptons