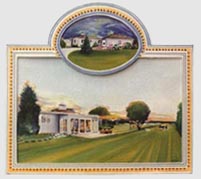 dora frost :: my weekly art journal
Run, don't walk to see the paintings of Lautano Cuttica at the Tripoli gallery on Jobs Lane in Southampton. Born in 1987, Lautano is a graduate of Rudolph Steiner and Cooper Union where he got a degree in architecture. That training may well account for his terrific sense of dividing up space in an unorthodox fashion – not an easy feat, when seemingly all has been said and done in terms of painting a canvas.
These paintings are joyous celebrations of subjects personal to the artist but not particularly relevant to the depth of painting and color choices that he works within. In other words you don't need a translator to see that these are a cut above; that is if you relate to pure "painterliness." The show goes through June 18.
Also up til June 18th is a more conservative show at 4 North Main Gallery als located in Southampton,featuring landscapes by Molly Dougenis, constructions by Norm Lowe, and figurative work by Dinah Maxwell Smith.
Norm Lowe's work is surprisingly fun. He uses driftwood and colored string to make a bird's wing or an array of varying turquoise panels to construct a mermaid's fan. Molly Dougenis' work is reminiscent of Fairfield Porter and other long Island painters. The paintings feature farm houses seen from interesting angles. She works mostly in earth tones. Dinah's work, probably the most well known of the group, continues to be strong realist painting done in her highly recognizable style. She has a show stopper of a man standing on a boat that for some indescribable reason is totally compelling. The nearest artist comparable to Dinah would be Edward Hopper. She also has a wonderful understanding of dogs and there I would say her paintings remind me of David Hockney's.
Stay tuned for more shows out here as the summer progresses.
– DF
---
Dora Frost is featured in TheHamptons.com Fine Art Gallery and has been working directly from nature on over size pastels of peonies. She is working on these in her studio in Manhattan. Simultaneously, in her studio on Long Island, she is working on a narrative installation revolving around Proust's character, the Duchesse DeGuarmantes. Ms. Frost believes that for her, living inside of two or three completely different bodies of work allows for a sense freedom, eliminating the controlled idea of the limiting style identification/personality implicit in being identified with predominately one thing…beckoning in once again the thingness of the made object. To see how her art has evovled please have a look at Dora's past exhibit which debuted with TheHamptons.com in 1995.